Right before the 8th edition of xSTatic urban culture festival, we had an opportunity to talk to one of the festival's organizers and one of the Split's first graffiti artists, SenkOne. Born and raised in Split, SenkOne is writing graffiti since 1994., and apart from that he claims to be a typical Croatian: a father, a married man and employed. We wanted to find out more about the untypical side of SenkOne: about the beginnings of his graffiti art and upcoming xSTatic festival.
– Why Senk? When I started writing graffiti, it was only seven of us writers all together: two brothers who were always writing together, graffiti crew from the park were also writing together, and then there was me. I was mostly writing graffiti alone, so in the beginning I was signing my work simply as One. But then I went to Germany and realised people there write -one as an extension to their artistic name. After I got back from Germany, I put a couple of letters I liked on a piece of paper and by combining a few of them I came up with Senk – says explaining his alias.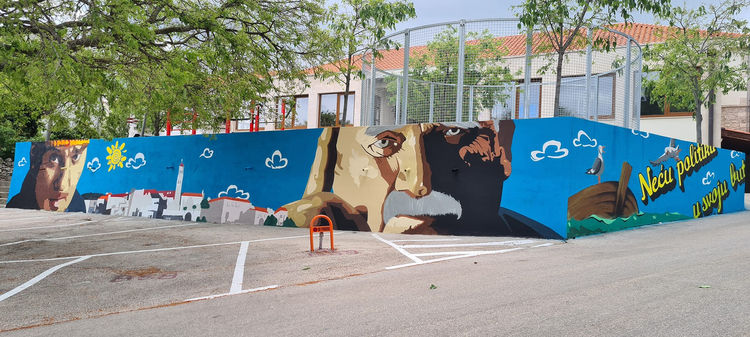 We asked SenkOne how he got interested in graffiti and street art and what made him start writing graffiti around the city. – It was on a fateful Saturday morning in 1994. I sat at the table in my living room to have breakfast. I remember it as if it was yesterday: I was eating two Bobis donuts and I turned on the TV. There was The Beat Street movie on the TV channel, and even though I only watched the second half of it, that was it for me. Couple of days after I realised a friend of mine had also seen the movie and got inspired by it. It didn't take long until we decided to form a crew and start writing graffiti. Our two-man crew was called RAN2 because Ra were the first two letters of my surname and An were the first two letters of his, and the number 2 meant it was just two of us. We made one graffiti together, and it was "RAN2" (yellow letters with black outline and red bricks in the background) on a school roof in Siromašna. My friend quit doing graffiti after that, but I continued – adds Senk describing his first encounters with street culture.
– Graffiti, just like any other type of art, is a part of a huge process of learning, practicing, influencing and being under influence (both knowingly and unknowingly) – says SenkOne explaining how did his style change and develop with time. – Probably it did change, like with any other graffiti artist. Since day one I appreciated all aspects of graffiti culture, regardless of the fact that some aspects are less popular among certain members of the graffiti community, I have considered it all as art. Personally I've tried out all of the aspects of graffiti culture, and I still do all of them. Some I do better, some I do worse, but I try to never limit myself.Since SenkOne started organising street art festivals since 1997., we wanted to know more about how it all started and what were the challenges of keeping festival's popularity throughout all these years. – It wasn't easy maintaining popularity, especially considering we had a 5-year break. After this gap, the city of Split became the organiser which changed the focus a little bit. Back in the days when we started writing there was no internet and all the graffiti magic (writing, meeting, learning, gaining experience, travel, friendship, connection) happened during graffiti jams. In my opinion, these graffiti jams have some kind of mystical energy even today. Entire hip-hop culture in the nineties worked like that. Basically, the idea about xSTatic was born that way, too – says SenkOne, highlighting importance of graffiti jams, their social and creative aspect. – As far as popularity goes, I can only talk about the graffiti part of the festival since that was my part of the organisation. I consider line-up to be the most important thing, so I always tried to bring renowned or trending graffiti artists, both Croatian and international, with a large number of local writers. It gives credibility to a festival. Another important thing is to give writers a fair number of sprays and colours for the background. The worst thing that can happen to a writer is to be given 5 sprays after he's travelled a couple hundred kilometres to participate in a festival – explains SenkOne.
We're aware that there's a certain preconception about street art but it's optimistic to witness how graffiti art is slowly becoming institutionalised and not considered as vandalism anymore. – The situation today is definitively different compared to 20 years ago, when you had to hide in the worst parts of the city or go out writing in the middle of the night, or to wait for a downpour, or a power cut, all that just to avoid people calling the police – says SenkOne about the difficulties of being a writer in the nineties. – I think it was partly because the War of Independence had just finished, and people were still very suspicious about and bothered by everything. On the other hand, today you can go out in broad daylight and draw wherever you want, more or less. I don't think this change happened thanks to festivals because every festival has its audience, no matter if it's a music festival or any other art festival. I believe it was thanks to popularisation of Banksy, Torcida's murals, the use of street art in commercial campaigns and so on.
We wanted to find out more about this year's edition of xSTatic festival and we asked SenkOne to tell us are there any novelties this year. – I wouldn't say this year's xSTatic will be much different from previous editions. Maybe compared to previous two editions of xSTatic because those 2 were after a long break and we were kind of trying to get a running start. Organisation-wise, this year's xSTatic is more similar to it's first edition in late 2000's. Ever since xSTatic was created, it was designed to be a massive festival celebrating hip-hop culture, highlighting graffiti and three other elements: bboying, dj-ing and mc-ing, along with extreme sports. Hence the name – xSTatic. When a visitor comes to xSTatic, he/she can soak up this ecstatic feeling and pay attention to different aspects of street art – explains SenkOne what the meaning and the idea behind festival's name is.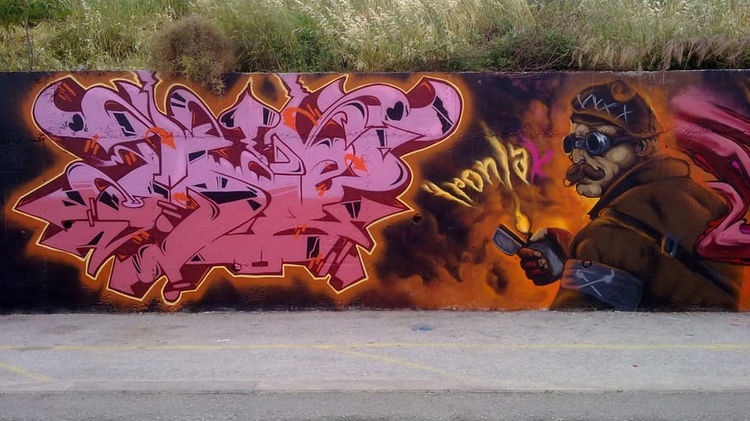 A lot of graffiti artist will take part in 8-th xSTatic festival, among them a large number of local artists. We were interested are there any works SenkOne is especially excited about. – Honestly, I'm excited about every writer and his work on xSTatic. Not just on xSTatic festival, but on every single wall out there. For sure, Split's graffiti scene may not be the best in the world, but for me, personally, it's my favourite one. There's not many of us who do graffiti and I hope our community will grow with time. What's important to say is that new generations are taking over the spotlight and even though they are familiar with other artists in our street art scene, they haven't been officially introduced to xSTatic audience yet!