How Croatians celebrate Christmas Eve and why the smell of sarma brings a smile on our face every time, find out below!

CATHOLIC TRADITIONS

Christmas time is meant to be celebrated with your closest ones: family and friends. It's a season of giving, showing gratitude and love. Preparations for this joyful season start 4 weeks before Christmas itself, by making an Advent wreath. Every Sunday before Christmas a candle is being lit, symbolizing the arrival of Christmas itself. Preparations include much more then just lighting candles, every Croatian household prepares food and holiday decorations beforehand, to have enough time to rest and enjoy the holiday magic.
On December 6th we celebrated the day of Saint Nicholas, a saint and protector of children and sailors. Every night before St. Nicholas, children leave their Christmas stockings next to the window for Saint Nicholas to reward them with candy. St. Nicholas is believed to be followed by Krampus, a demon-like beast, whose mission is to punish misbehaving children. If the children misbehaved that year, they might get a golden rod from Krampus instead of chocolate and candy from St. Nicholas. What was in your Christmas stocking this year?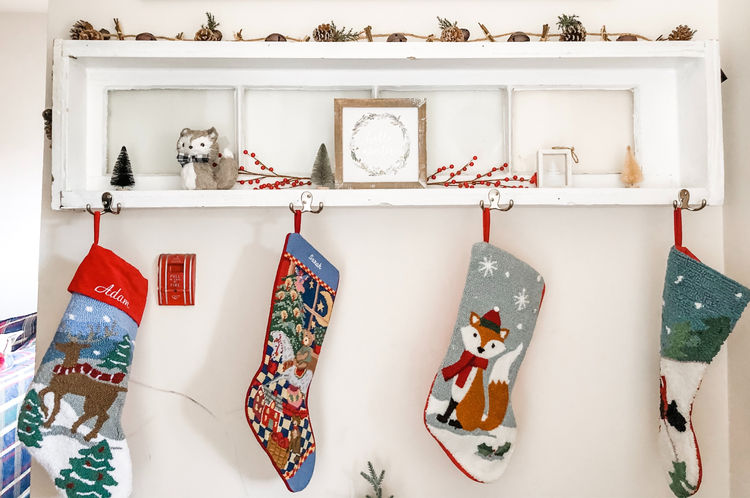 Another Croatian Christmas tradition is planting Christmas wheat on December 13th, the day of Saint Lucija, who was a Christian martyr and the protector of the blind. Christmas wheat is a symbol of fertility and life, and Croatians decorate it with ribbons on Christmas. Fun fact: there's a mausoleum crypt dedicated to St. Lucija in Diocletian's Palace in Split and it's available to visit only on December 13th. We think it's definitely worth a visit!

FOOD

Traditionally the day before Christmas (in Croatia we call it Badnjak) is a fast day and no meat is allowed, but fish is. Most popular dish on Badnjak is codfish, which can be prepared in a couple of different ways, and most popular are bakalar na crveno (red-style codfish) also called brudet (codfish in a stew, slow cooked in wine and tomato sauce) and bakalar na bijelo (white-style codfish) with a lot of garlic and white wine.

In Croatia we like to spend Badnjak preparing food we will eat on Christmas, so we can simply rest and enjoy the food on this holiday. As huge meat-lovers, we cannot spend Christmas without a proper meat roast. Apart from the roast we love to eat sarma for Christmas, too! It's another meaty specialty, where mined meat is mixed with rice and folded in cabbage leaves and slow-cooked in cabbage sauce and dried/smoked pieces of meat. Croatians eat sarma with mashed potatoes and in almost every household you'll find a decent amount of something we call french salad (in Croatian: francuska salata), which is basically a veggie salad (peas, potatoes, carrots, pickles) with a bunch of mayo, and is traditionally served with the meat roast.

Another delicious meaty specialty eaten in the holiday season in Croatia is pašticada (try to pronounce it like this: paw-shtee-tza-duh). The dish originated in the south region, Dalmacija, and if you didn't get a chance to try it, we suggest you treat your taste buds with a plate of heavenly pašticada as soon as possible! It is made of beef or game meat, marinated in wine vinegar overnight and stuffed with carrots, cloves and bacon to finally be slow-cooked in a sweet-savoury sauce (there are dry plums AND sweet prošek wine in this sauce - yum!). Pašticada is traditionally served with homemade gnocchi or fresh pasta.


If you're a sweet tooth, you'll absolutely enjoy the holiday season in Croatia. Sweet little pastry called fritule resembles tiny donoughs, and our grandmas used to put dried raisins inside, too. Fritule are usually packed with icing sugar, and people love to dip them in chocolate spread as well. You can find fritule everywhere - they're typically being sold at Christmas markets and many bakeries offer them as well. Another thing Croatians typically prepare in this season is orehnjača (nut roll). It is made of sweet yeast dough, which needs to be rolled really thin and then topped with nut paste and honey. The dough is then rolled in a log shape and baked. As far as the filling goes: there are other variations, with makovnjača (poppy seeds filling) being the most popular, along with orehnjača. Croatia has it's version of gingerbread and it's called medenjaci - soft cookies made with honey and cinnamon, cloves and ginger.

If you're spending Christmas Eve in Split, we recommend treating yourself with tickets for The Christmas Concert at National Theatre. Spending the evening in good company at the Christmas market is another great idea. If you consider yourself a foodie, you might want to book a seat at Daltonist Christmas dinner, where traditional Irish dinner is to be served, accompanied by wine and cocktails.
For all those in Zagreb, The Esplanade is organizing Christmas Eve dinners every year, and we think it's a good option if you don't want to stress over cooking. The Christmas Advent market in Zagreb is offering a lot this year, with many concerts at different locations. Make sure you check out their programme and make your decision on time. Where are you going to spend Christmas Eve?