As I learned from my research and the interview I wrote about, first Split Pride Parade in 2011 was not peaceful at all because it was attacked by 10,000 anti-gay protestors. A lot of activists and reporters were injured because of the attack that they were not expecting. They didn't give up and after Split Pride, Zagreb Pride has organized and 4,000 people participated. When I saw this year's pride, I couldn't believe that these anti-gay protests happened before because all people were together and there was a huge crowd as supporters around parade. 2nd Split Pride was successful because it got a lot of support from other Balkan countries and Germany, Netherlands, Australia, and the US. Also, a lot of Croatian politicians, celebrities, and media organizations. Even the president Ivo Josipović gave support by publishing a video message for pride and LGBTİ+ rights. Police officers were ready for any attacks that year so nothing bad happened during 2nd Split Pride Parade. After these events, pride parades in Croatia started to become safe. In my opinion, getting support from a lot of people including government and politicians, and not to give up despite everything were the main reasons to prevent any attacks.
Pride has been celebrating in a lot of countries in the world since 1970 but some of them can't be successful because of attacks by people, police, and governments. A lot of countries still have anti-gay laws, and it makes LGBTİ+ people's lives harder. So, the homophobic people attack to pride parades, LGBTİ+ people by getting courage from anti-gay laws of countries.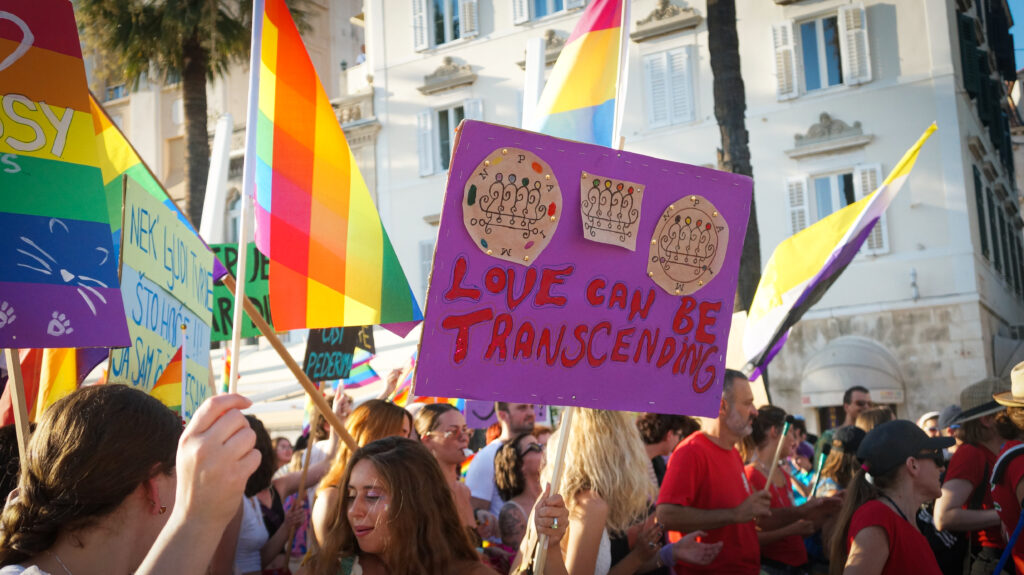 I am Turkish. I've been in gay communities and pride parade in Turkey also, but we couldn't celebrate pride properly in my university city Eskişehir because whenever we go to street for celebrating pride police detain us immediately. The ones that police didn't detain, generally still celebrates in the streets by running and hiding from police. People were not attacking to pride parades in Turkey but police until this year. This year everything changed because Turkish government provoked people against LGBTİ+ community a lot. This year Islamist and super-nationalist groups attacked to pride parades in every city.
Split Pride Parade became my first pride celebration because when I joined pride parades in Turkey police detained me even before we celebrated. I was so happy to see people celebrating pride in Split. They were all together and celebrated pride without any problem or police attacks. Police was even just following and protecting them from any attacks. It is impossible in Turkey for now. They are the ones attack first in Turkey.
11. Split Pride Parade was successful from my perspective. Split Pride had started from Park Josipa Jurja Strossmayera, Đardin. In the park, Pride Committee sold a lot of things for getting financial support for next ones. There were a lot of banners and pride flags on the ground and people were free to carry them during parade. It had started from Đardin and then we walked all around the main areas mostly. People were supporting, taking photos and videos from balconies and streets. I wish more slogans were shouted during the parade. People should have heard our requests from all over the city so they could also act up. In Turkey even while we were getting detained, we shouted a lot of slogans, so people also went out on balconies and shouted to police for letting us go. I think this is really important point for protests and parades.
I had a lot of questions about Split Pride as a foreigner, so I made an interview with Đana who is a volunteer of Split Pride Committee.
-I didn't see any pride parade in here since I'm new in here. Can you just talk a little about previous parades?
+ Sure. I would say that maybe first couple of ones were problematic. Especially, first one was the worst because we were not prepared for it, police were not prepared for it. We were not expecting that many problems. Around 10,000 people were doing like anti-gay protest, and they started throwing things to LGBTİ+ people and some people went to hospitals. After 2011, first pride, in second pride Split tried to show "Okay, we're not homophobes, we are better than what happened last year", so I would say it was the biggest pride. So many people were there and then after that we didn't have many problems. Police was more aware of situation. I'm also in the organizations for the last 4-5 years. The last 4- 5 years, things changed in a way that it's not just the protest now. Now, it's also fun. We decided, "Okay, we're going to talk about problems but we're also going to have fun". So people can see it's not like you're going around naked etc. We're just going to walk freely and be happy and dance". I think things are changing slowly but you still have many people that are against it. People are always saying "Oh, you have so many polices that are getting paid with our own money." but there wouldn't be so many police if there weren't so many threats, comments. We're just trying to protect ourselves.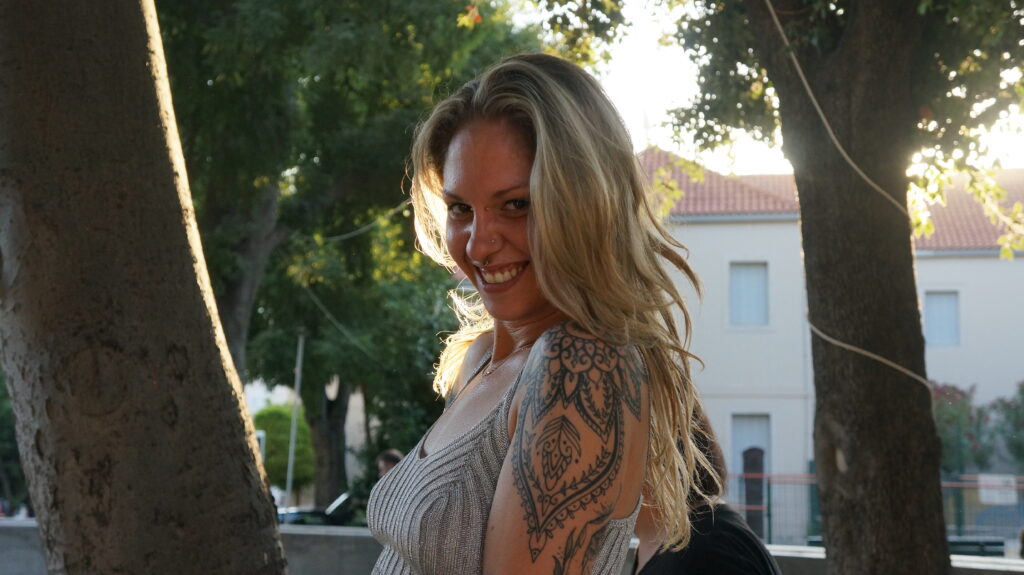 -How big was this pride between the others? I saw so a lot of people because in Turkey it's always attacked so it is hard to gather. I guess they don't get afraid of any attacks anymore in here.
+There are many people who don't want to go out. For example, kids whose parents are not letting them go out and saying "You're too young for it, you can't go before you turn 18" but I think more and more people come every year. Also, we have many tourists now. I would say 600-700 people celebrated pride parade this year. It's getting bigger and bigger. I think it was bigger than last year. There are many 17 to 22 years old young people. Newer generations are being louder and braver. So, I think our generation is a little bit like "Okay, something's happening but I'm not going to be a part of it" but younger people like 20 years old they're loud, they want to be seen.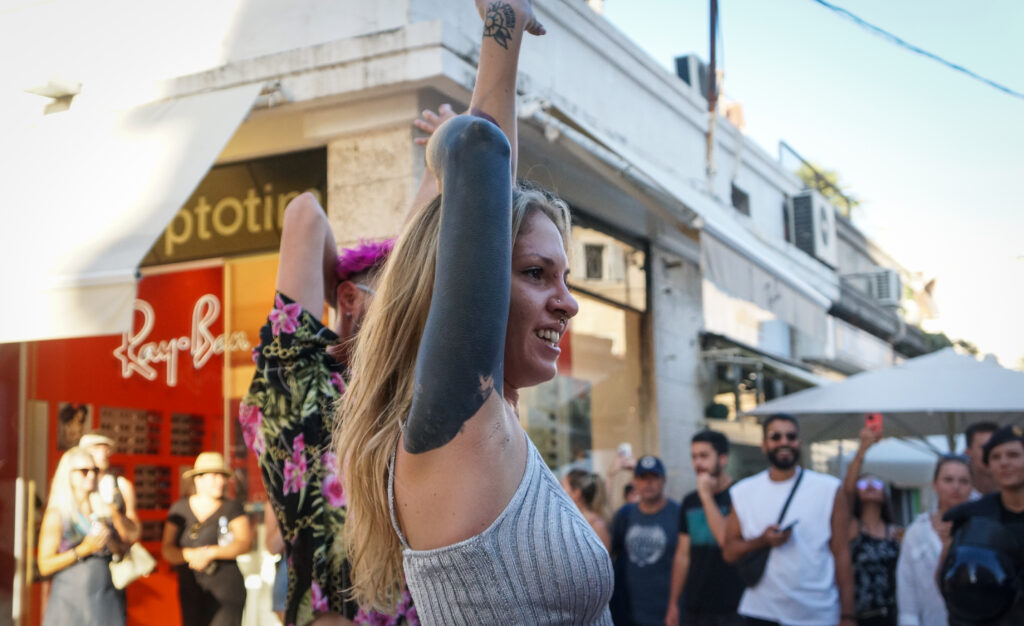 -I saw a lot of young people but also, I saw old people in here. In Turkey, you can't really see any old people in pride parades. I saw the people were also celebrating and supporting from other side of the street, balconies. It's so good. I wonder why do you not shout slogans?
+I think, the banners, pictures say more than words. Also, my friend that is organizer she had the speech just now. I think it's too big of a crowd to say something and be heard from every part of parade. We also shout slogans on Women's Day. Instead of shouting slogans, we are playing music, we're dancing etc. That's similar.
-I heard about laws changed for LGBTİ+ adoption rights in Croatia on last days. Is that true?
+Adoption is possible but they're very strict. But adoption is also hard for heterosexual couples it's just hard process for everybody. For same sex couples, as lesbian couples in some countries they can have a child by getting pregnant but in here, we are also dealing with that to change that. I have a girlfriend so maybe in 10 years I would like to have a kid but with these laws I can't. Yeah, we have rights but in practice it's hard to reach them. You can't even give blood if you're gay. That's why this year's pride's motto: "Do we have rights?". People always ask us "Why are you celebrating, protesting that?" and say, "You have all the rights, you have everything". If we have everything, I would be in beach and just enjoy the moment today. But since we don't have same right as straight people, we are in here.
We had a very candid interview with Dana. Split Pride was great, thank you to everyone who organized. I hope future prides will be as a celebration of the equal rights we will have earned. Hoping to see days where a person is not attacked for being LGBTI+ anywhere in the world, HAPPY PRIDE!