Foto: Duje Klarić/Cropix
We don't know how many of you have ever washed your clothes in a laundromat, and hopefully after this interview you will. At least we did. We spoke with Antonio Čipčić, the owner of Split's cosiest laundromat Music Laundry.
When we imagine laundromats, the first thing that crosses our mind are numerous movie scenes with romantic encounters in this often very underrated setting. Remember how Ross from Friends chased Rachel in the laundromat just to get on a date with her in season 1, using German detergent just to impress her? Well, Antonio in his laundromat is not using German, but Croatian detergent (lavender and immortelle scented) and we would definitively be up for a date in his Music Laundry.
Located in Velebitska street, Antonio's cosy little laundromat Music Laundry offers much more than just scented detergent. Designed to make your waiting time more interesting and fun, Music Laundry offers selected music playlist, Italian coffee and a cosy sofa. You can also grab some of the board games or play a game of cards to kill waiting time while you're there listening to groovy tunes. When we think about it, it's just the type of place Split didn't know it needed.
We asked Antonio how he came up with the idea of opening a laundromat. –To be honest, my mum gave me the idea so I can't take all the credit ha-ha. It was actually during a phone conversation back in summer 2018. She just mentioned to me that she saw a lot of people in some other laundromat. So that thought stuck in my head and grew into something we see today. So, thanks mum! – explains Antonio how his mum gave him this business idea.
Even though Music laundry isn't the first nor the only laundromat in town, but it's definitively one that stands out. – I like to think that it has a soul. It has that cosy happy place vibe written all over it. The little, yet big things such as free Wi-Fi, coffee machine, good music, books, crosswords, and of course a comfy couch! So, to answer your question, yeah. Of course, I'm happy to see good reactions and feedbacks – says Antonio about his renowned laundromat.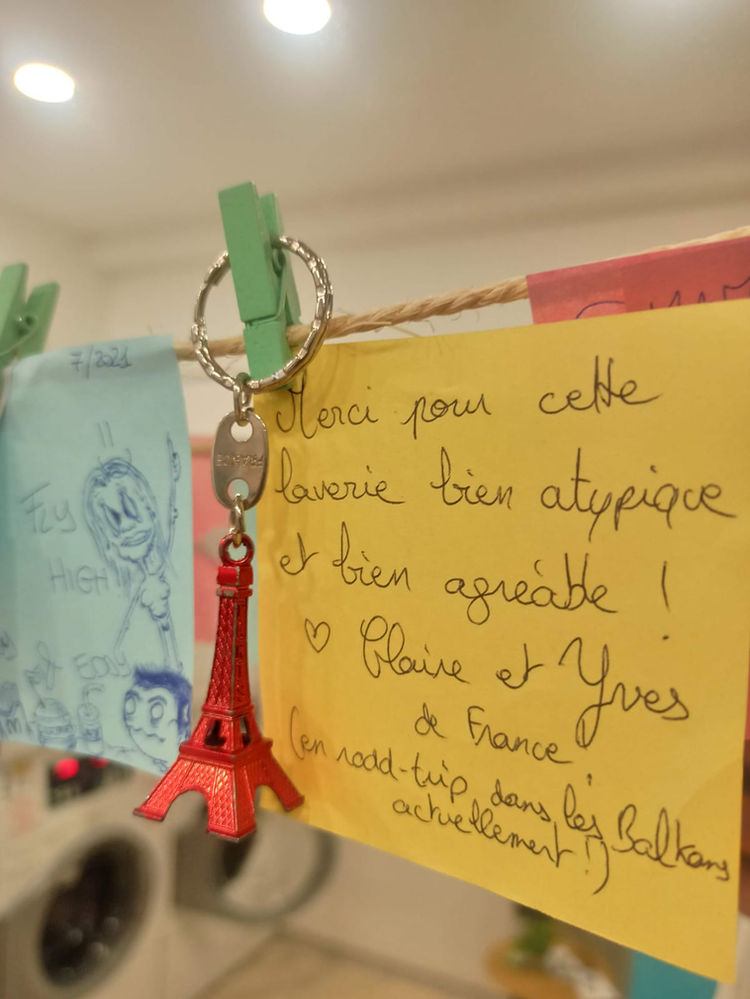 Right after Antonio opened Music Laundry the pandemics started. It was a challenging time, but after all the laundromat survived. We asked Antonio how stressful it was to open a small business in this unlucky timing. – Yeahhh that was a bummer. Who knew? But thanks to the nature of business (zero human contact) I was able to keep the show going. I also got some help from the state department for pandemic related issues. But yeah, definitely a bumpy road and a real test for the nerves and character – adds Antonio. We have to point out that in Music Laundry everything is being desinfected every couple of hours, and the space itself is ventilated and aird out in order to keep it safe for its customers.
Right after Music Laundry opened up, it got a lot of good publicity really quickly. One of the things people love to say about this laundromat is that clothes feel exactly like mom washed them. And is there a better praise than your work being compared with a Dalmatian mother's work (disclaimer: this is not a gender stereotype, we in Croatia believe mom always knows best)? Hardly. We asked Antonio what his trick is. – There is no big secret, we just use the good expensive stuff! It's actually a domestic company that makes the detergents and other products for cleaning. This company runs over 100 years and people trust that brand. So, I plan to keep the good stuff going because it gets the job done – adds Antonio.
When asked about the plans for the future, Antonio didn't reveal too much, just enough to keep us engaged. – Show must go on! Step by step. Build a name, a brand. Open a bigger laundromat of course. All in good time.