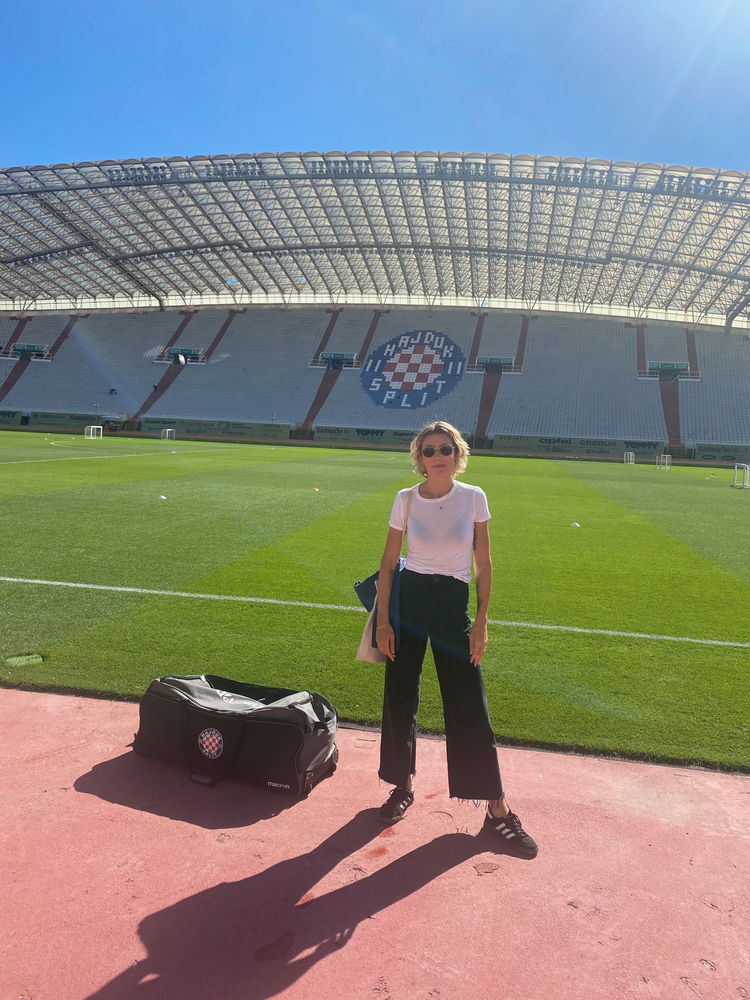 Born to Croatian parents in California, Daniela Rogulj was exposed to Croatian culture while growing up in a small town near San Diego. Even though she was never planning to move to Croatia, it's been 6 years now since she's been living in Split and started her career as COO of Total Croatia News. She told us all about her experience of life in Croatia form an expat's perspective.
One of the things worth mentioning at the very start is that Daniela is an avid fan of Hajduk (Split's legendary football club): – We're always proud of our heritage and found ways to celebrate our Croatian-ness whenever we could. And that often meant my dad finding Hajduk matches on odd radio stations so we could follow them live – explains Daniela how it was growing up in between cultures. – My parents did everything to keep our Croatian culture alive, which wasn't too hard, even in my small hometown near San Diego. I was christened in a Croatian church in San Pedro, had Croatian godparents from my mother's hometown of Metković (though we only met them in California), and had lamb on a spit at Easter and sarma every Christmas. Our family home videos reveal my grandparents speaking to me in Croatian as a toddler (in which I would respond in English or repeat the few Croatian words I knew). My dad's family left Split in 1958 for New York City, meaning I grew up around a tight-knit group of 1st-generation Croatian-American cousins, while my mother's entire family lived in Croatia. I often remember referring to myself as 'Croatian' and never 'American' and was coined the 'Croatian' of my school – says Daniela.
Many expats are considering moving to Croatia, but for Daniela it was a completely spontaneous decision. – It's much easier when it happens by accident. I honestly had no plan to stay in Croatia, nor did I ever think I would be here 6 years. But everything fell into place for me here – explains Daniela how she ended up living in Split. – I was about to overstay in the UK and was in the process of obtaining my Croatian citizenship, which required a trip back to the US to get my birth certificate amended (my last name was misspelled - a classic Croatian tragedy). My parents decided to (mostly) retire in Croatia in the meantime, just before the summer of 2015. We decided I would come for the summer as it would be easier for me to finish the citizenship process here. My citizenship was approved two weeks after I applied, and 12 friends from California crashed at my parent's new place while visiting from June to September. By this point, I still had no plans to stay in Croatia and saw my new EU passport as a golden ticket to Berlin or literally anywhere else in Europe. But after reflecting on a standout Split summer and seeing opportunities in places I hadn't before, I decided to stick it out in Split for the meantime, live rent-free with my parents for a few more months, and see if anything fell into place. And it did.
Daniela lived in big cities around USA as well as in big European cities, such as London. Comparing them to Split, she highlights Split's safety and its slow pace of life: – Croatia is the safest place I've ever lived, and that is without question. I had to carry around pepper spray walking around San Francisco for 6 years and witnessed things no early 20-something should have. Things you wouldn't notice in Croatia if you tried – says Daniela, explaining how she discovered the pomalo (eng. little by little) lifestyle. – Living in Croatia, and especially Split, gave a new meaning to 'lifestyle' I never knew before. I always thrived for city life, and after living in San Francisco and London, I thought that was something I always wanted. Learning to live at a slower pace has done wonders on my wellbeing, and the everyday big-city anxieties are now a thing of the past - that is, until I go back to visit said places and remember things like 'rush hour'. I don't miss it at all. It's been repeated time after time, but everything here is done over a coffee, which can also mean a drink, and it doesn't matter what time of the day it is. The thriving cafe society and local community encourage you to get out and be amongst others, which big cities fail to provide. And while bigger cities may have more international flair, I've never had more friends from all corners of the world, whereas my friends in San Francisco were mainly from California – explains Daniela, adding it's not all milk and honey in Croatia, especially as far as bureaucracy goes. –The obvious disadvantages include bureaucracy and the painful processes many of us have to deal with to get even the simplest of things done. Still, at the end of the day, I have everything I did in California or London, plus healthcare and 3 rescue cats, which is a huge plus.
When it comes to possibilities and perspectives, we can say Daniela is living The Croatian Dream: not so long after she moved to Croatia, she continued her very successful career, now working as a COO of Total Croatia News. – If I could send a message to other expats in Croatia, I would say: never give up. It'll be challenging at times, and you'll quickly learn that the checks and balances applied elsewhere don't really work here. So long as you're willing to adapt and move with the flow of Croatia's often frustrating systems, you'll be surprised at what you can make for yourself here – says Daniela. – I didn't begin working for Total Croatia News until almost a year after I was in Croatia. That job alone has opened a world of opportunities I never knew possible, nor do I think I could have achieved the same success elsewhere. I am now the COO of Total Croatia News and Sports editor who attended EURO 2020 as a journalist this summer, all while maintaining a busy copywriting career on the side, primarily for luxury tourism clients.
When asked to say a couple of final words for our readers, Daniela told us the following: – There is so much unexplored potential in Croatia. If you bring fresh ideas and determination to anything you do, everything is possible.